ContactRITTER Starkstromtechnik GmbH & Co. KG
Switchgear factory
Niekamp 8
59399 Olfen
Tel.: +49 2595 3 81 - 0
E-mail: olfen@ritter.info
Contact person:
Ralf Schuch
Head of Sales Switchgear
Tel.: +49 2595 3 81 - 261
E-mail: ralf.schuch@ritter.info
More contact persons here »
RITTER Circuit breaker panel type LSF 3001
Type-tested in slide-in and fixed installation technology for 3 or 4-pole circuit-breakers, can be used as infeed, outgoing or coupling.
Operating voltages 400, 500, 690 V
Rated short-time withstand current up to 100 kA
Rated current up to 4000 A
Metal-enclosed and sealed up to 1 kV
Arc-fault
Degree of protection IP31 (IP41 optional)
Field of Application
These panels are applicable in the building services and the industry version. The panels of the industry version are tested in regard to the appearance of inner faults (internal accidental arcing).
Construction
The circuit breaker is fitted centrally in the panel. The connection to the busbars is made in the rear part of the panel. The cable connection is arranged beneath the circuit breaker. The front side is locked by three doors: Tribological - circuit breaker room - cable compartment.
Operation materials
The 3WL from Siemens or Emax from ABB are used as circuit breakers. Either the conventional or communication-capable (PROFIBUS) version can be used.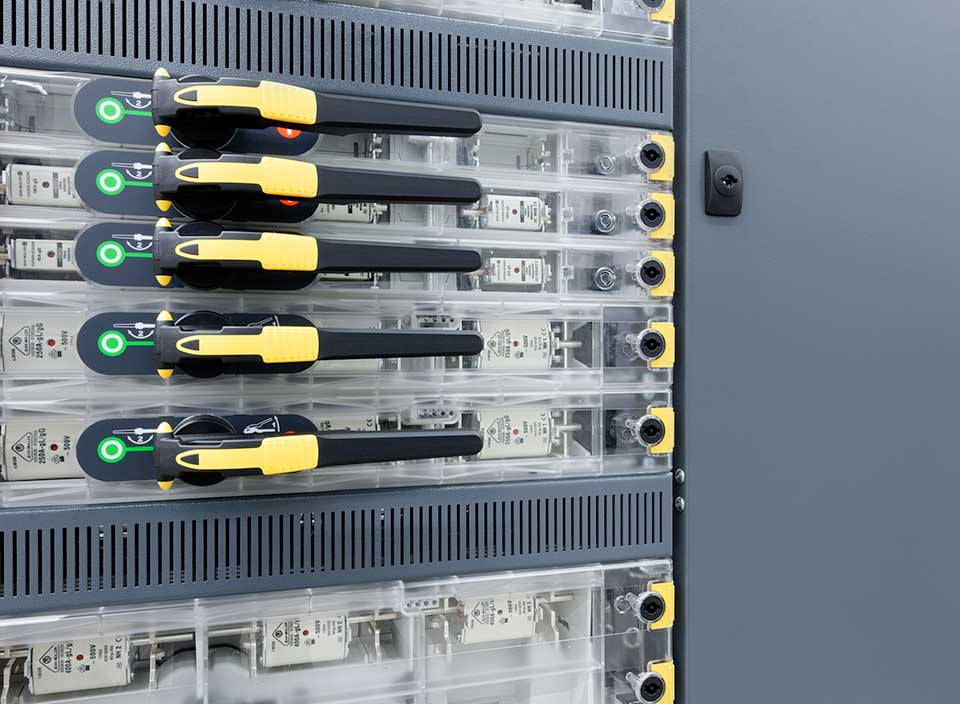 Dimensions
Width 500 / 600 / 1000 mm
Depth 600 mm
Height 2300 mm at IP31, 2400 mm at IP41